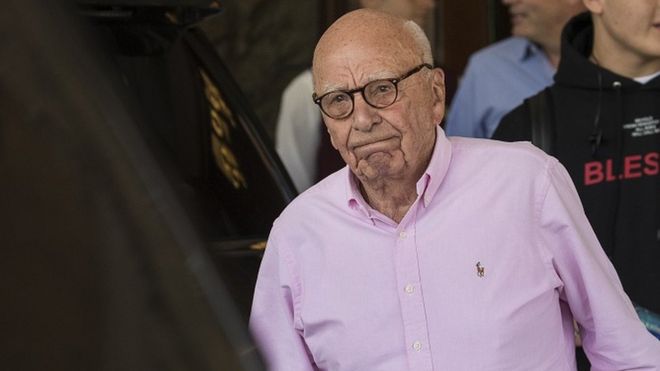 The battle for control of Sky has escalated after US media giant Comcast raised its offer for the broadcaster.
The new offer, which values Sky at £26bn, trumped an earlier bid from Rupert Murdoch's 21st Century Fox.
With 20 million subscribers in Europe, Sky is an attractive target.
Its future is part of bigger battle among media companies such as Disney and Comcast as they respond to the challenge of newcomers such as Netflix.
Comcast said it had "long admired Sky", adding: "We believe it is an outstanding company and a great fit. Today's announcement further underscores Comcast's belief and its commitment to owning Sky."
It was now offering £14.75 a share for Sky compared with £14 from Fox.
Comcast said its sweetened offer has been recommended by Sky's independent committee of directors.
Rupert Murdoch's Fox has been waiting for approval from UK authorities before putting its offer to Sky shareholders.
Fox expects the Culture Secretary, Jeremy Wright, to give it the go-ahead later on Thursday, with the condition that it sells Sky News.
Disney and Comcast are locked in a battle for those businesses, which include movie studios, cable channels, National Geographic and a 30% stake in video website Hulu, as well as Indian network Star.
In June, Disney raised its offer for the assets to $71.3bn (£54bn) in cash and shares.
Under the deal, Fox would keep Fox Sports, Fox News and Fox Television Stations and make them into a new company called "New Fox".
Established media companies like Disney are looking for deals that would help them meet the challenge of fast-growing rivals including Netflix and Amazon.