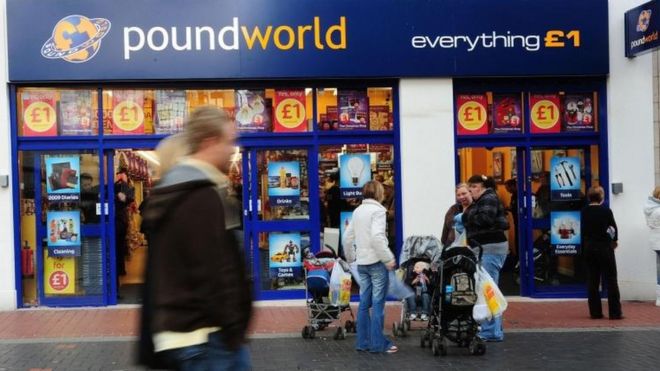 Discount retailer Poundworld is expected to appoint administrators, putting 5,100 jobs at risk.
Talks with a potential buyer R Capital have collapsed meaning that the chain felt it had no other option but to put the company into administration.
Poundworld, which has 355 stores, and serves two million customers a week, also trades under the Bargain Buys brand name.
Deloitte is expected to be appointed to oversee the administration.
Poundworld has been losing money for the past two years. Losses for the financial year 2016-17 were £17.1m, up from £5.4m the year before.
It's the latest High Street retailer to run into trouble.
Just last week, department store chain House of Fraser said it would close 31 of its 59 shops, citing the need to adapt to "fundamental change" in the retail industry.
A combination of falling consumer confidence, rising overheads, the weaker pound and the growth of online shopping have made it tough for traditional retailers.
Electronics chain Maplin and toy chain Toys 'R' Us both collapsed into administration earlier this year.
Other High Street chains such as Mothercare and Carpetright have been forced to close stores in order to survive.
Restaurant chains such as Italian chain Carluccio's, pizza restaurant Prezzo and burger chain Byron have also had to close stores as they battle a triple-whammy of falling trade, higher costs and increased competition.
Independent retail analyst Richard Hyman said Poundworld was simply not managing its business well enough. "The clue's in the name: These days having a fixed price in the title is a disadvantage but it is not a killer disadvantage.
"Importing products is not peculiar to Poundworld but others have been getting round this by getting manufacturers to put fewer biscuits in the pack, for example.
"The bigger picture is there are too many retailers with too many stores for the market to feed."
Poundworld, which has its headquarters in West Yorkshire, was formed in 2004, but it says it can trace its origins "back to 1974 and a market stall in Wakefield, West Yorkshire".
Investment company TPG, which bought a majority stake in Poundworld in 2015, also controls the restaurant chain Prezzo whose landlords and creditors agreed a restructuring last month.
A formal administration announcement will be made later on Monday.