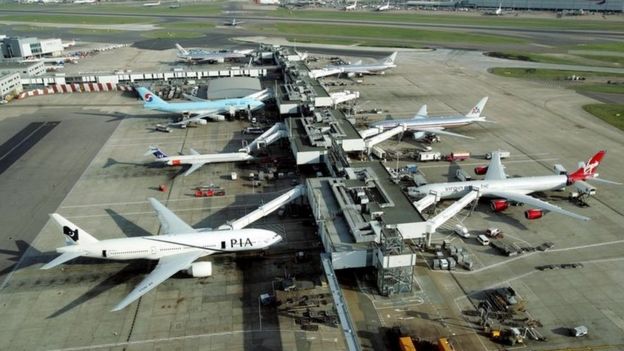 Ministers have described their backing for a new runway at Heathrow Airport as an "historic moment" for the UK.  The cabinet signed off the plans after they were approved by the government's economic sub-committee, which is chaired by Prime Minister Theresa May.
Transport Secretary Chris Grayling announced £2.6bn in compensation for residents and noise abatement measures.
Environmental groups oppose the plan, which Mr Grayling says will only happen if air quality commitments are met.
Heathrow runway to 'change lives forever'
"The time for action is now," Mr Grayling told MPs, who will be asked to vote on the expansion plan by 11 July.
He insisted the decision was being taken in the national interest and would benefit the whole of the UK – with 15% of new landing slots at the airport "facilitating" regional connectivity.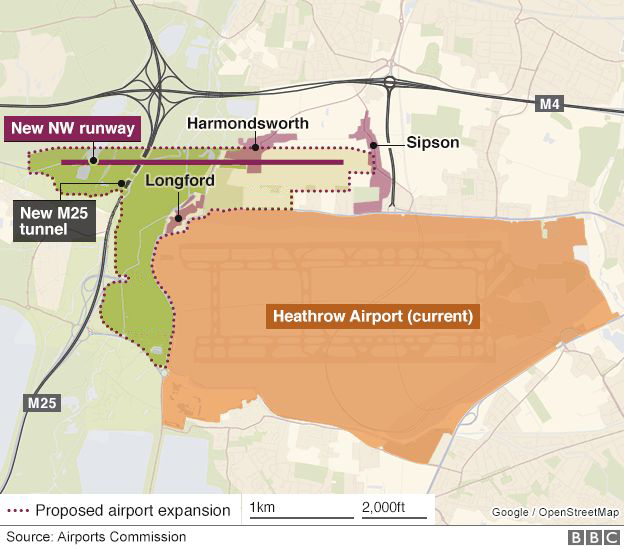 He said the £14bn runway, which could be completed by 2026, would be funded entirely privately – but MPs warned that taxpayers would end up footing the bill for billions in road improvements and other upgrades and warned that the UK's carbon emission targets would be threatened by the increase in traffic around the enlarged airport.
The debate on expanding Heathrow has been going on for nearly 20 years.  The last Labour government backed the idea, and won a vote on it in 2009, but that plan was scrapped – and the idea of expansion put on hold for five years – by the Conservative-Lib Dem coalition formed after the 2010 election.  But the idea of expansion was resurrected and has been subsequently backed by the Conservatives. Ministers approved a draft national airports policy statement in October setting out the conditions for a new runway.
Parliament has yet to give its approval for detailed planning to begin.
Opponents have threatened a legal challenge while Foreign Secretary Boris Johnson, who is MP for Uxbridge and South Ruislip in west London, has vowed to "lie down in front of bulldozers" to prevent it.  Ministers whose constituencies would be directly affected might be given a "get out of a jail card" – by being allowed to miss the vote or even vote against.
Campaigners argue that a new runway will breach the UK's legal limits on air pollution and increase noise pollution with an extra 700 planes a day.  It will result in huge disruption to residents of nearby villages, such as Longford, Harmondsworth and Sipson, with hundreds of homes likely to be knocked down.  Robert Barnstone, from Stop Heathrow Expansion, told the BBC it was a "disappointing" day and the government was "failing people and failing the environment as well".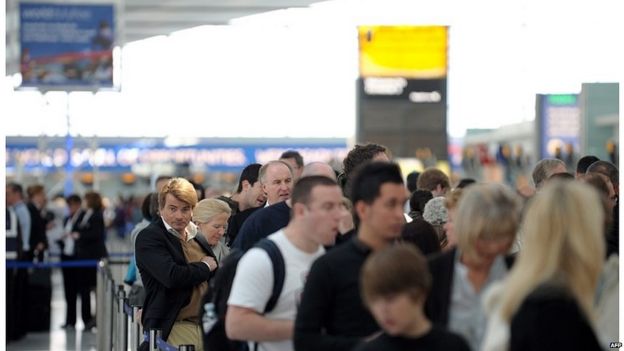 The expansion is estimated to create about 60,000 new jobs and generate about £70bn in total economic benefits by the 2050s.
Mr Grayling said it would provide a "vital legacy" for the British economy and said he had accepted 24 out of the 25 recommendations made by the Transport Select Committee to improve the plans.
Residents whose houses are knocked down will get compensation worth 125% of their value – as well as legal fees and stamp duty costs paid for – while £700m would be available to fund noise insulation measures for those who decide to stay.
He said a ban on night flights was an "absolute requirement" and non-negotiable while he said landing charges paid by airlines must stay at current levels.
"This runway cannot be built if it does not meet air quality rules," he added.
Sir Howard Davies, whose 2015 review recommended a new runway as long as environmental and community impacts were addressed, said "significant" concessions had been made on reducing early morning flights and minimising the impact on residents on the proposed flight path.