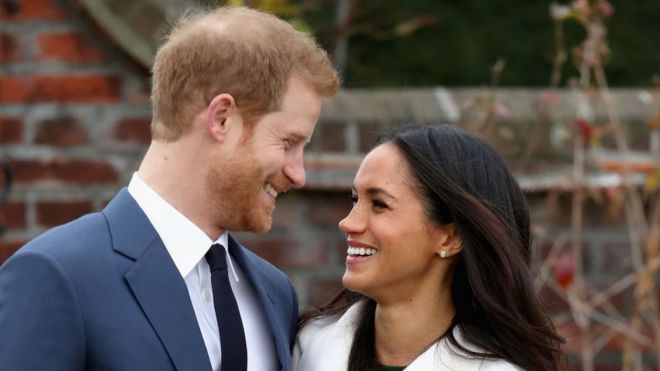 Prince Harry's wedding to Meghan Markle may have bells ringing but it won't keep UK tills ringing, an economic forecasting group has found.
The overall benefits to the UK economy from the nuptials will be "limited", says the EY ITEM Club.  It predicts tourism and retail businesses as the most likely to benefit from the occasion next weekend.  A Saturday ceremony means fewer workers may be distracted on the job, leaving productivity largely unchanged.
Howard Archer, chief economic advisor to the EY ITEM Club, said it would be
Wary of over-egging the potential impact or seeking to put a hard figure on the potential gains.
"We suspect there will be a very limited, temporary boost to the economy focused on some sectors, notably retail, tourism and, possibly, catering and pubs."  However, the economist also suggested that some celebrating the royal marriage will simply bring forward spending in shops, pubs and supermarkets or switch from spending on other items.  "The retail sector will benefit from people buying royal wedding souvenirs, such as plates, cups and magazines".
Happy Brits holding festive street parties would also temporarily boost the retail and catering sectors, the economist suggested, as food and drink sales would rise.  "Pubs should also benefit as they have been given permission to stay open for longer. However, it should be kept in mind that some of the retail spending may just be switched from spending on other items," Mr Archer said.  However the British Retail Consortium struck a more celebratory tone, predicting the day may bring a similar economic uplift as the wedding of the Duke and Duchess of Cambridge in 2011.  Rachel Lund, head of retail insight at the BRC, said the combination of the royal wedding alongside an FA Cup final was likely to be positive for UK retailers.  "Clothing and footwear was a big winner from the marriage of the Duke and Duchess of Cambridge, setting a record for growth that month, as people sought to replicate the style of the newest addition to the royal family," she said.  "With the country in the mood to celebrate, food and drink sales were also exceptional. We expect to see a similar pattern around 19 May."