Rising fuel and food prices helped to push last month's inflation rate to the highest since September 2013.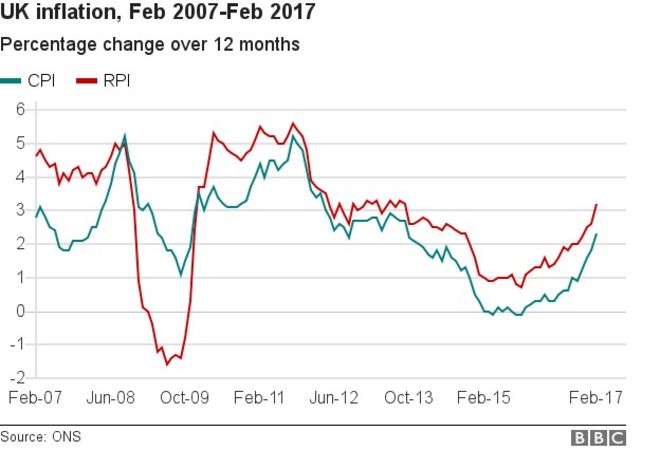 Inflation as measured by the Office for National Statistics' Consumer Prices Index (CPI) jumped to 2.3% in February – up from 1.8% in January.  The increase has pushed the rate above the Bank of England's 2% target.  Food prices recorded their first annual increase for more than two-and-a-half years, standing 0.3% higher in February than a year earlier.
The Bank of England has said it expects inflation will peak at 2.8% next year, although some economists think the rate could rise above 3%. The Brexit vote last June prompted a steep fall in the value of the pound, making imported goods more expensive.  Ben Brettell, senior economist at Hargreaves Lansdown, said the fall in the pound against the dollar had been pushing transport costs higher since last summer.
Oil is priced in dollars, and sterling has fallen around 13%… since last June's referendum.
He said that transport costs accounted for more than a third of the inflation figure.
Consumer squeeze?  This month, the ONS has started to promote its preferred inflation statistic, CPIH, which includes a measure of housing costs and council tax. This was also measured as growing at a rate of 2.3% in February.
The Retail Prices Index (RPI) measure of inflation rose to 3.2% in February from 2.6% the month before.  At the last week's meeting of the Bank of England's interest rate setting committee, one member voted for interest rates to rise to curb the threat of inflation.
But despite inflation standing above the 2% target, some economists do not expect interest rates to rise any time soon.
Inflation is now running at the same rate as growth in wages, putting pressure on household income and spending.
Chris Williamson, chief business economist at Markit, said:
It remains likely that policymakers will adopt an increasingly dovish tone in coming months, despite the rise in inflation, as the economy slows due to consumers being squeezed by low pay and rising prices.